How to boil water in South Pole?
Coz the water will never reach a boiling point.

So what's it gonna take for u to realize?

I swear: It's a pain in the ass!!!!

I was hurt before. My Mom doesn't want me to get married.

Yes. I got scammed. But this doesn't mean that I oughtta get stuck here.

Yes. It's SO HARD to trust anyone.

Beginning of Aug., I met a Scandinavian on a dating site.

This Scandinavian was up in the midnight,
which was able to chat after I finished work @ 10 pm (Sometimes 10:30 pm).
Let's address this Scandinavian as "Mr. Scandinavian."
I didn't talk to Mr. Scandinavian too much.
He didn't mind getting on Skype, which means that he's communicative.
Aug. 21, I shipped him a brand-new cleaning robot.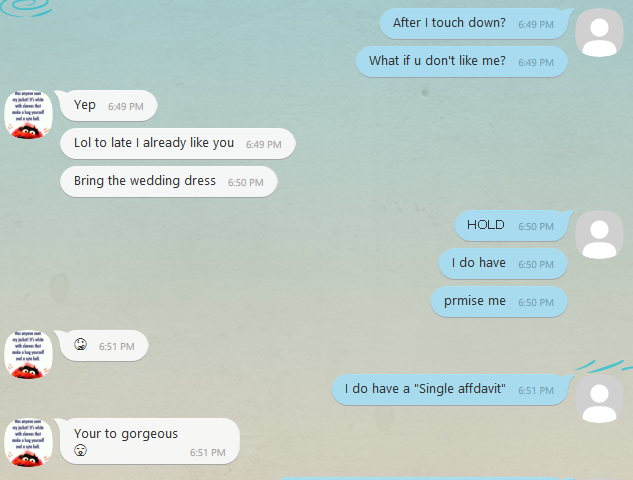 Beginning of Sept.,
I had to choose between enrolling a caregiver's course & paying off my debt.
I decided to pay off my debt to 8 banks.

I didn't ask too much help from family though they have money. Coz:
1. I dragged them down after I got scammed.

2. They'd wanna control me.
My Mom doesn't want me to go abroad coz I'm much safer in Taipei.
Last year,
I was threatened to intercourse by an Italian grape farmer in Robinvale in South AUS.
I had a midnight runaway without water or food for eighteen hours in 7 degrees.
(I'll write another story of it.)
July, an (Jewish) American offered me 65% - 100% free to New York to see him.
It was a dilemma!!
35% of a USA flight is only AUD$272.
This nice-looking American can speak Mandarin,
& he ever studied in Taipei.
PERFECT body shape in his age.
I chose Mr. Scandinavian.
I was wrong.
I was working EVERY night & keeping searching for the CHEAPEST ticket.
I booked my return flight on Airpaz APP.
I didn't know why my payment on Airpaz APP failed.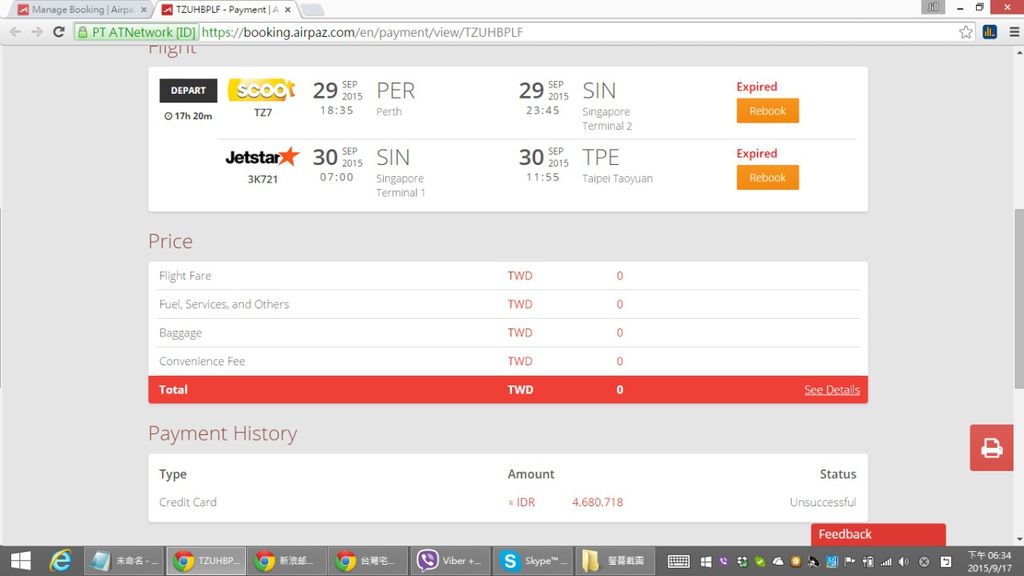 When I discovered it, it's already Sept. 17.

As u may have known: The later u book a ticket, the more expensive it is.
My original return date was Sept. 30.
I called Mr. Scandinavian to discuss it.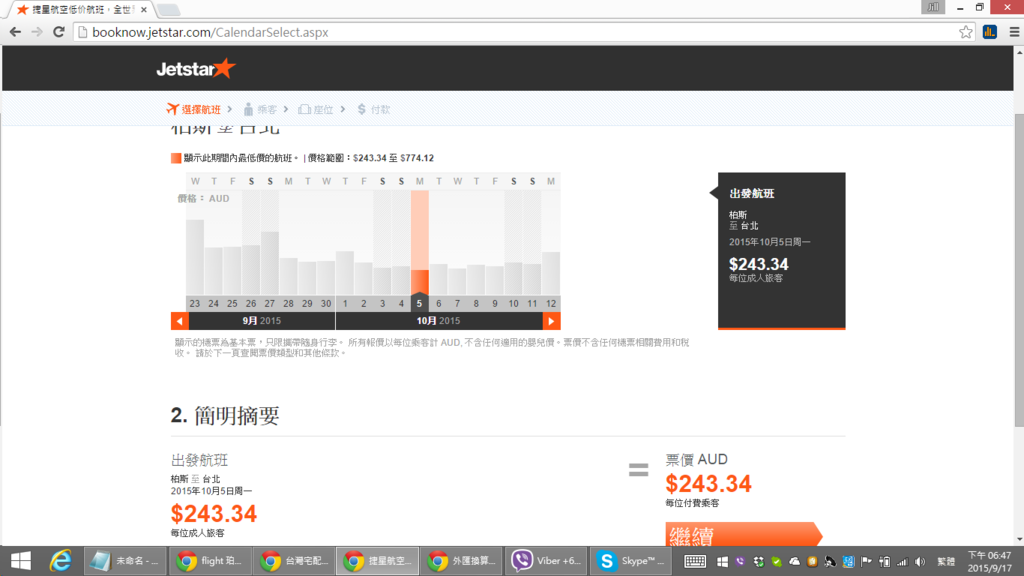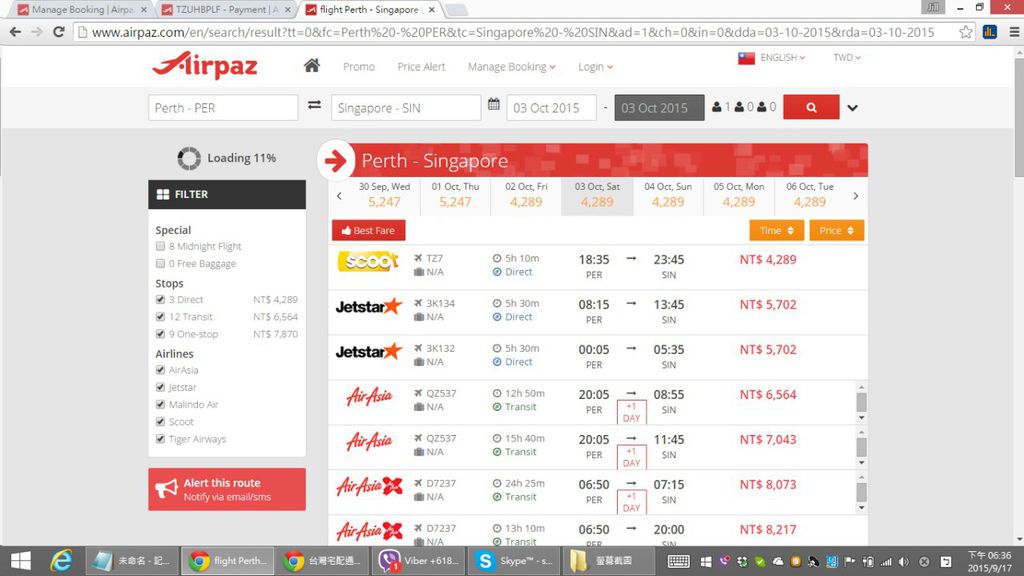 Mr. Scandinavian replied as below: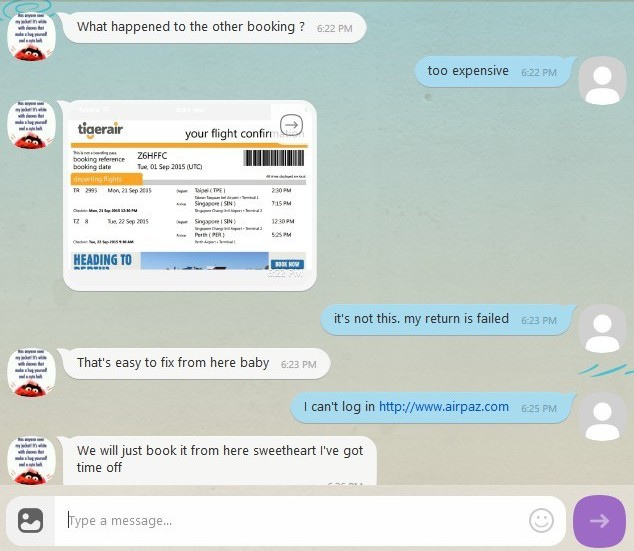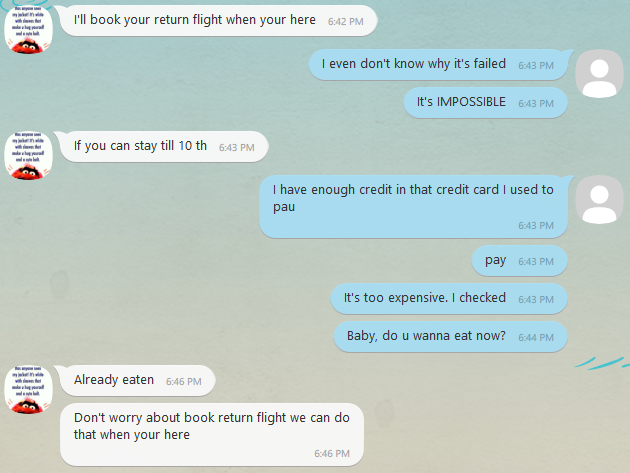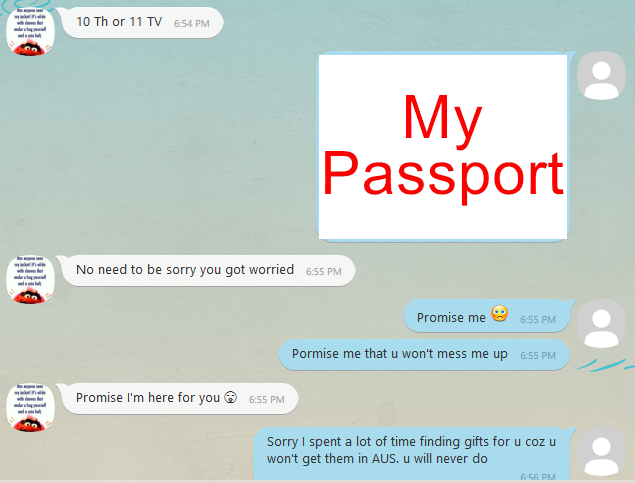 So I didn't book my return that night.
I rushed to work.
I believed in him!!!!
Sept. 21 morning, I forgot my money in ATM while calculating how much money I may need.
The money wasn't there anymore.
So I had to withdraw money AGAIN.
I was in panic. I called Mr. Scandinavian to say: "I wanna cancel it."
He told me to come over & call back to Taipei while transferring @ Singapore.
@ Singapore Airport, I was lucky that my money was retaken by ATM.
A Hawaiian Filipino told me the last MRT is 00:00 am.
I took a wrong direction @ an interchange @ 23:20 pm but I couldn't go back.
That was the last MRT.
A Swiss-Singaporean mixed-blooded guy helped me stay in his place over night for free.
I got interrogated by AUS IMMIGRATION while passing by CUSTOMS.
(A senior police net pal said: "It's becoz u didn't book a return flight.")
Immigration demanded me to depart before Oct. 9.
1st day @ Mr. Scandinavian's home in Maddington, WiFi was unstable.
WiFi password was missing.
My laptop couldn't be switched on.
Mr. Scandinavian let me use his MAC Guest Acct..
I paid an expensive roaming fee to log in Web WhatsApp.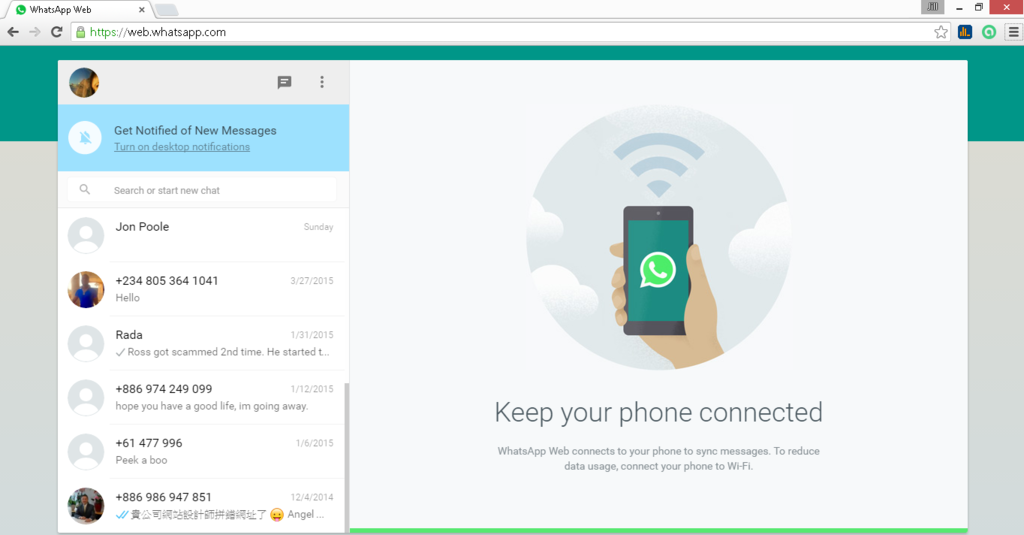 I unblocked Ash after blocking him for 2 months.
I've been holding grudge against Ash as:
1. Ash was picking on me. He DID Know how bad I lost all data & how grievous Shannon (Older Sister) misunderstood me.
2. Ash sponsored an Indo. gal 4 years ago. (He said she just wants money.)
3. Ash opened an acct. on a CHINA dating site.
Well, u can NEVER teach someone to see a value ---
For instance, Getting the casket and returning the pearl.
China mainlanders r very cunning!! Scammers everywhere.
I got scammed. So Ash is about to seek a China scammer now??
On WhatsApp, I invited Ash to meet up.
I brought his gifts.
Ash came to Maddington.
Sept. 25, Mr. Scandinavian promised me marriage.
Taiwan government was off due to a typhoon.
I couldn't apply for an e-copy of "Affidavit to Single Status".
(Well, unsure of its legitimacy.)
I called my Mom & Sister to get it in my room. But there's no spare key to my room.
All day, I troubled my family, spent fone fees, felt fucking stressed, & plotted a "Visa Run" to New Zealand.
Monday, Sept. 28, UK Queen's birthday.
West Australia was off.
11:00 pm, Mr. Scandinavian refused to predate 1.5 months,
which was genuine, while discussing over applying for a visa.
He wanted me to wait for 9 months. He said he's not divorced yet.
I wasted extra AUD$145 simply becoz Mr. Scandinavian didn't precaution me.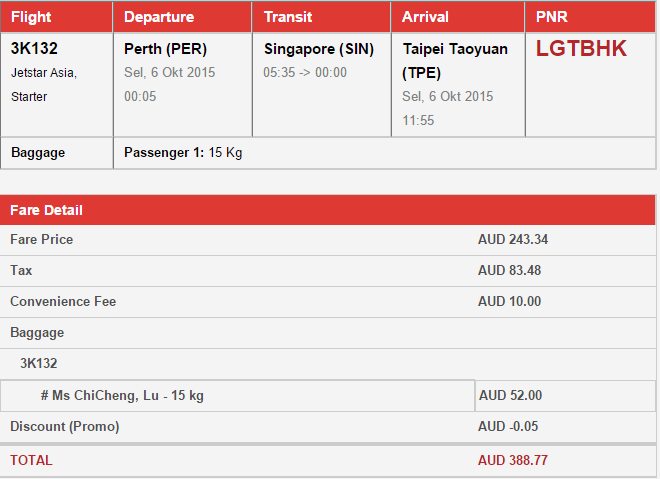 If u r gonna break ur promise, don't u think that u MUST inform the person RIGHT AWAY???

Mr. Scandinavian is NOT a man of his words.

I know that he would NOT do it after 9 months.
I'm not a burden. I know it's time to go.
I didn't want him to ask for a leave @ work.
But I just didn't know how to tell him.

I rather lose him right now.
So I said: "I'll have to contact other men."
Mr. Scandinavian went to bed.
12:30 am, I dreamed of my Sister's death. I woke up.
I went to hug him.
He just revealed:
He's been spying on my web-based WhatsApp on his MAC.
Mr. Scandinavian: "u r playing a game."
"u r going to New Zealand to see someone."
"Tomorrow I'll tell Immigration to ban u forever."
Me: "Will u take me to a pregnancy test?"
Mr. Scandinavian: "No. I can only tell u that I can't have a baby."
All these years, I took workplace bully, I left "Comfort Zone", I took national exams of licenses, I took insults from nasty Aussies...
ALL IN VAIN!!
He reminded me of my UK ex, Chris, who snooped my fone,
got wrong information, went to drink, had a hangover,
rang up my old French friend to screw him,
& demanded a baby, which wasn't a part of our deal in the 1st place.
MANY times I've told Chris: "It ain't so."
Do u understand this vid: Salt - Cyanide & Happiness?
u caused someone else's pain yet u think it's funny??
Pretend that nothing's happened?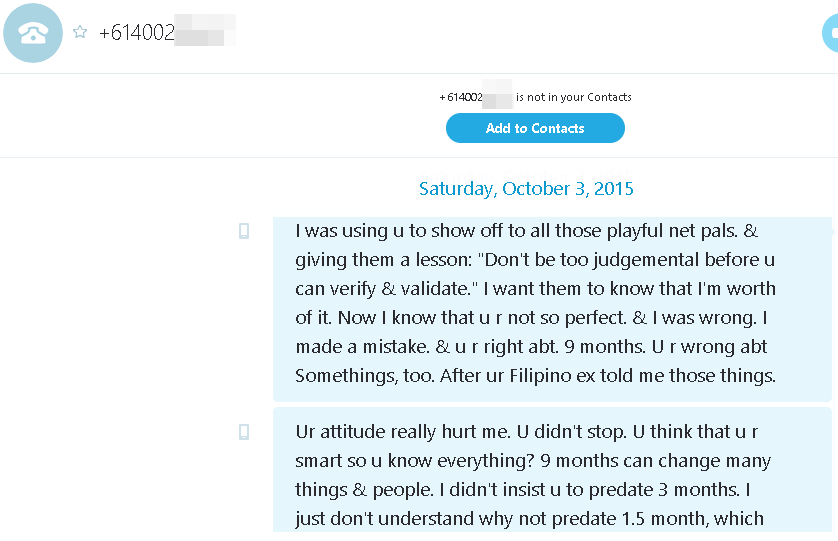 1:30 am, I went out without anything... WITHOUT any single thing.
7 am, I came back.
Mr. Scandinavian locked his door on purpose.
14 pm, I went to sought help from a neighbor, Oliver & Patricia.
I wanted to go to a church. But no church was open.
Oliver called the police.
Police arrived at 3:40 pm, when haply Mr. Scandinavian gets home from work.
Police accompanied me to retrieve my luggage & then drove me to Armandale Hospital.
It took me 5.5 hours to do checkup, pregnancy test, & a morning-after pill @ Armandale Hospital.
10:30 pm, my doctor let me go.
Sept. 30, Wednesday, my Croatian friend took me to Perth Central Station.
My 3G network wasn't working.
I glimpsed "VodaFone" but...
1. I was sleepy/tired.
2. I'd be too late to assemble with my Croatian friend.
3. Ash promised to meet up on Friday/weekend. I'd have WiFi again.
4. Maddington Central "VodaFone" sales representative said that this AUD$2 SIM only has a #.
I topped up but I wasn't sure if there's data.
I didn't walk into "VodaFone."
Oct. 2, Friday morn, Ash Whatsapped me that he's busy in the afternoon.
I went to Maddington to apologize to Mr. Scandinavian.
He not only refused to meet, but also changed his WiFi password.
I was waiting @ his front door.
A cook, Antony Moore,
who lives on #26 or #28, Pitt Street, Saint James, promised to pick me up @ 3:30 pm.
6:40 pm, I smsed Antony Moore.
(& I called a Secret Harbor guy. He hanged up on me directly.)
Antony Moore: "I was cooking for Grand Final of 2015 FFA Cup. Too tired to meet up."

Me: "u were supposed to tell me earlier!"
I switched off my cell.
No bus. I walked to Maddington Station heading to Perth Central Station.
I switched on my cell.
Antony Moore: "u can still come if u want. Take a cab from Maddington."

I wanna know what's his job & restaurant like as I was working in a "sha-bu sha-bu" restaurant & Regent Hotel, Taipei (5 stars).
Me: "I'm already on the train."
Antony Moore: "To Oats Street Station. Take a cab to Saint James."

I presumed that I would be safe coz Antony Moore did NOT seem interested in me at all.
First he blew me off, 2nd he even didn't wanna pick me up from station.
@ Oats Street Station, a kind nice friendly Singaporean bus driver showed me the way.
For my safety, this gentle Singaporean directed me to get off @ Curtin University.
That was 9 pm.
Antony Moore came to pick me up & asked me what I wanna do.

Me: "I just wanna sleep."
Antony Moore shares the same house with his older brother, Chris, who's sleeping.
He put me in his room.

11:00 pm, Antony Moore started forcing me to intercourse.
I was trying to reason with him.
I was begging him to stop.
Antony Moore threatened me: "Either u fuck me, or u fuck off."

Rapidly I packed & ran out.
It's very dark & cold there.
On my runaway, I bumped into a cab.
This cab is a limo which has zebras' stripes.
I told the driver what's just happened & asked him to take me to a closest motel.
The driver doesn't know a motel nearby.
11:30 pm, we arrived at Oats Street Station parking lot.
A train's coming in.
He gave me a discount of AUD$0.80.
I dropped my wallet in the front seat in a hurry.
It was dark. I didn't see it. I was afraid of missing out the last train to Perth Central hostels.
Railway police helped call my Cannington Christian friend to pick me up.
We went to a police station in Oats Street Station area.
It's closed. I lost EVERYTHING.
Christian friend helped report my loss to police,
Found accommodations for me,
& gave me AUD$25 in total.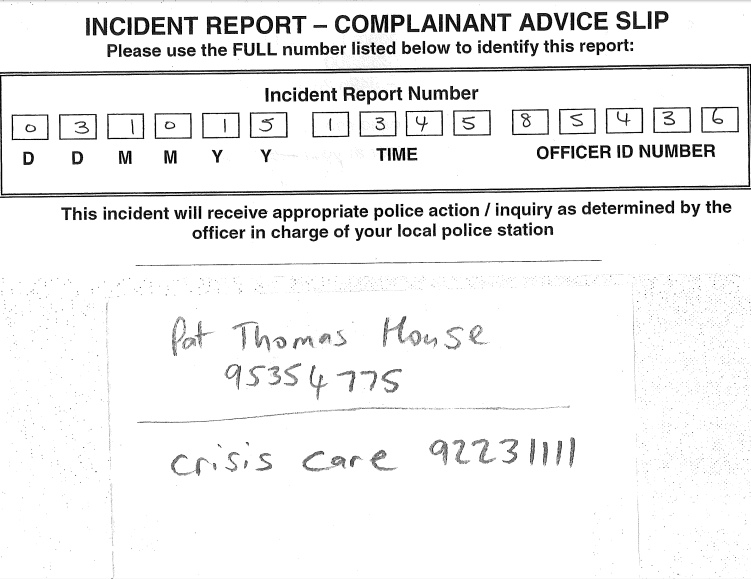 He didn't notify me one day earlier, which wasted me AUD$100 roaming fees.
Oct. 3, Saturday, 3:40 pm, @ Cannington Station, I called "Pat Thomas House". It closes @ 5 pm.
"Pat Thomas House" said: "We're in Mandurah. It's a little bit too far for u to take an airplane. I'll forward you to somewhere closer."
The waiting was killing me.
So I decided to try out my luck the last time! (Running out of coins...)
I called the Secret Harbor guy. On the fone, he said he would help.
AGAIN, this was killing me! I smsed him in advance & I was waiting 1 hr. @ Kwinana Station.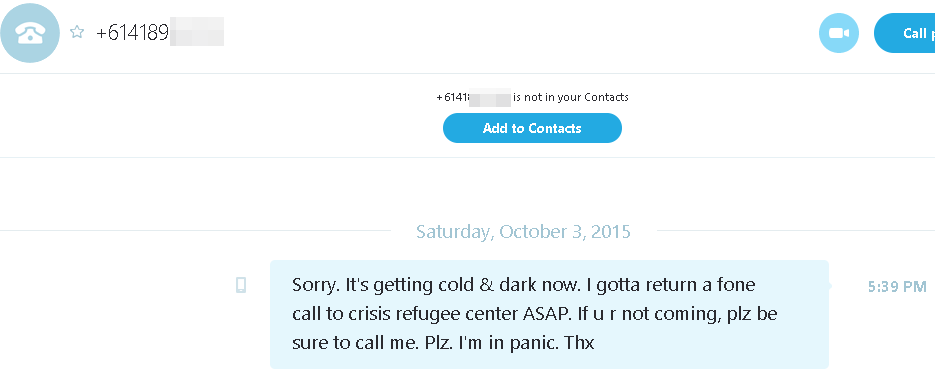 Secret Harbor guy met me & explained me: "My frenz think that u r a scammer,
& u paused on the fone, as if u were pondering scamming me.
I don't think it's fair to generalize people. So I came to figure it out."
We went to visit frenz & parents before I departed.
He took me to airport 7 pm, Oct. 5.
8 pm, Darren Woodfired, an owner of a resort in Queensland, blew me off.
Darren Woodfired's irresponsible sudden absence NEARLY fucking cause me Big TROUBLE!!!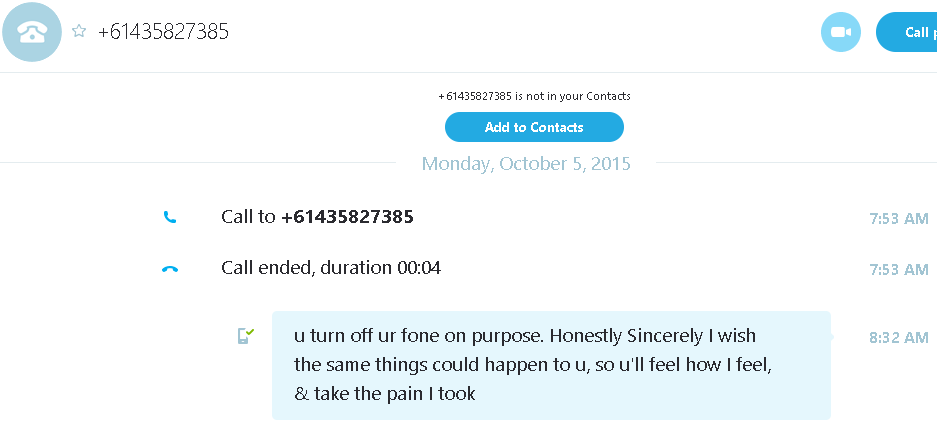 Do u know what's a "promise"?
A "promise" is "words coming out of ur own mouth from ur own free will."

If u r not gonna carry out ur promise, u oughtta notify the person ASAP!!!
Oct. 8, thru Warwick friend's help,
Mr. Scandinavian's Filipino ex contacted me.
The facts are:
1. Sept. 19, Saturday, this couple's still having sex
--- While I was working.
I was touching down on 22!!!!!
2. Mr. Scandinavian has divorced already.
3. Mr. Scandinavian has got vasectomy.
He kept me buying & taking morning-after pills,
putting me in embarrassment talking to pharmacists,
wasting me 5,5 hours in Armandale Hospital!!!
(I'm not a whore. I didn't plan to fuck him, so I didn't bring contraception.)
4. Mr. Scandinavian does burp in the public yet he wrote "NO" in mail.
5. Mr. Scandinavian does NOT do housework.
6. Mr. Scandinavian did NEITHER reimburse me pills TWICE he promised,
NO ONE's gonna pay her full fare & 1 day on airplane JUST to play a game with you!!!!!!
u think that I have so much fucking money & time????
Am I bad to publish this?
No. Let me tell u what's "Pure Evil."
"Commission" is sin.
Isn't "Omission" a kinda sin??
My Christian friend's received $50 from me.